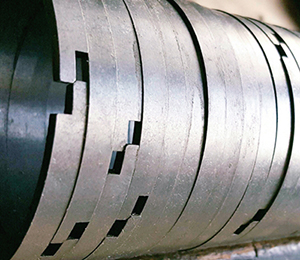 AD Piston ring manufactures specially designed and engineered high temperature stainless steel plunger rings for replacement on zinc die cast machines during normal maintenance and repair. Our plunger rings are made of stainless steel and are heat treated for maximum life. Plunger rings are manufactured from custom sourced stainless steel wire, cut, rolled, milled, inspected and shipped from our Cleveland, Ohio Factory.
Stainless steel plunger rings are made to our exact specifications in size, shape and hardness, which provides a consistent compression load on sleeves and reducing their replacement cycle time. Our plunger rings are heat treated and machined to final size.
Our plunger rings can last up to ten times longer than other rings made from cast iron alloys improving production efficiency, reducing machine down time and providing consistent quality of die cast products.
We manufacture a variety of standard sizes of plunger rings. AD Piston Ring is the premier manufacturer of stainless steel plunger rings, for use in high stress, high output applications. Stainless steel plunger rings resist corrosion, and are durable for high rpm needs, with excellent sealing ability.
Our stainless steel plunger rings range in size from ¾" to 7", we produce plunger rings in 420 and other grades. Stainless steel plunger rings are custom manufactured, and as a result, can be made to customers' specifications, including MM sizes, with either Butt or Step joint configurations.
Our most popular sizes of stainless steel piston rings and seals are stocked for immediate delivery!